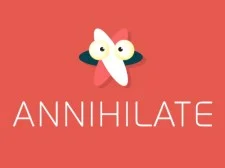 Annihilate is an original puzzle game in which you match pairs of atoms of the same color. While trying to fulfill your goal, various obstacles like lasers, black holes or uranium 235 hinder the way.

How to Play?

Swipe finger or use keyboard arrows to move all dynamic characters on screen in the same direction. Get atoms of the same color close to each other to annihilate. Number of moves is limited.
Annihilate : How do I find similar games?
Annihilate

: Watch Walkthrough