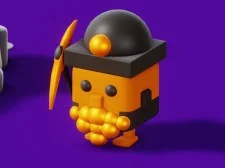 Crossy Miner is an arcade game with the gameplay similar to the classic Frogger game. In Crossy Miner game you have to dodge goblins, hop across logs, evade mining vagons and collect coins. Make sure you don't stay still for too long or you're toast! Don't forget to unlock exciting new characters with your hard earnt coins!


How to Play?

Use the arrow keys to move sideways or forward. Don't stand in the way of upcoming goblins, or other incoming objects. You can also use gamepad
Crossy Miner : How do I find similar games?
1player 3d 3d-game animal animals arcade best bestgame fast-jump fast-jump-3d fun funny hypercasual train
Crossy Miner

: Watch Walkthrough