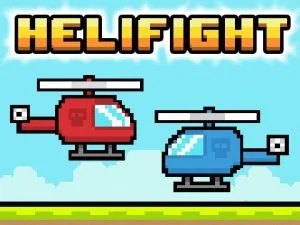 Two tiny pixel helicopter is struggling with each other. One of blue and red helicopters, is under your control and the other one is under your friend's control.Try to hit the enemy helicopter with rocket fire by collecting rocket symbol which appears in the air. The one who does five shoots, wins the game.

How to Play?

On mobile devices by touching and on keyboarded devices by W and UP ARROW KEY you can control
Helifight : How do I find similar games?
2 player 2 player games arcade army battle funny helicopter pixel retro war
Helifight

: Watch Walkthrough