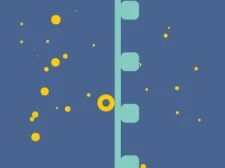 Line Side is a reflex puzzle game. Your job is to control the circle to avoid squares. To do that you need to change lines, to go to the left or to the right side of the line. Tap on the screen to change circle side. You need to change the side in time. Not to fast or to late or you will crash into squares. Make you own score and have fun.

How to Play?

Tap on screen to play this game.
Line Side : How do I find similar games?
avoid circle kids kidsgame puzzle reflex square
Line Side

: Watch Walkthrough