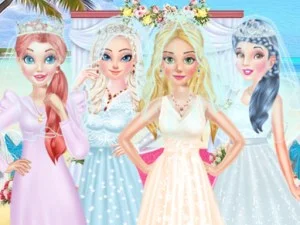 Princess Collective wedding
Several princesses were planning to get married, so they decided to hold a group wedding. Wedding is a hard job for these girls, they are very annoyed by their wedding dress and makeup. Can you help them choose the most beautiful wedding dress and jewelry? You also need to help them with makeup on their wedding day. Can you make them the most beautiful brides?

How to Play?

Mouse click or tap to play
Princess Collective wedding : How do I find similar games?
decoration dressup elsa frozen girl girls kids love makeover makeup princess wedding
Princess Collective wedding

: Watch Walkthrough