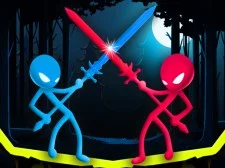 Stick Duel : Medieval Wars
Fight with your friend in medieval theme on GD, with medieval weapons in duel game Stick Duel: Medieval Wars! Use horizontal buttons to move and attack your opponent. Try to hit your head for easy wins and collect more stars and win your opponent in main score. Have fun!

How to Play?

Left Player Move : A – D keys or Touch
Right Player Move : Right and Left arrow keys or Touch
Stick Duel : Medieval Wars : How do I find similar games?
1player 2 player 2-players boys duel fighting gun hypercasual physics ragdoll random shooter stickman western wrestle
Stick Duel : Medieval Wars

: Watch Walkthrough