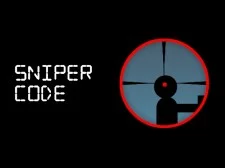 The Sniper Code is a mission-based sniper game with stickman characters. You only have one night to complete each of the missions. Takedown your targets and achieve your objectives carefully.

How to Play?

Controls on PC/Mac
• Use the mouse to move and aim
• Click the left mouse button to shoot
• Press space bar to jump in running missions

Controls on Mobile
• Move the aim by dragging the scope
• Tap the shoot button to fire
• Tap to jump in running missions
The Sniper Code : How do I find similar games?
action fire gun puzzle shooter shooting sniper stickman
The Sniper Code

: Watch Walkthrough