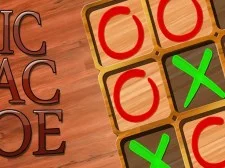 Want to play a little game to pass time in the subway or just spend a moment with a friend? Tic Tac Toe is the perfect game for you. This very simple game is the perfect way to train your memory and practice the basics of strategy, all while having a good time. Take part in the history of a game as old as time itself.

How to Play?

Have fun with this game, discover all possible play combinations, and battle your friends to become the Tic Tac Toe champion. It's time to put your brain to the test while having a good time!
Tic Tac Toe : How do I find similar games?
2 player arcade classic classroom games old-school school tictactoe
Tic Tac Toe

: Watch Walkthrough