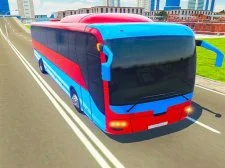 Ultimate City Coach Bus Sim 3D
Welcome to the most amazing and challenging bus transportation game of this year 2019. Prove your bus driving skill in this new city coach bus simulator game. Get behind the wheel of a big transporter coach to start a joyful venture as a real bus driver on the pitch black city tracks. Experience the extreme madness on crowded city highways while driving the giant passenger bus in extreme traffic of a big metro city. Prove your bus driving skills by safely transporting the passengers and tourists across the multiple locations without getting late. So, get on the board, buckle up and take control of a city coach bus as a real bus transporter. Drive around in detailed 3d city during daylight and night in this bus driving simulator. Take your driving skills miles beyond the limits while experiencing multiple control modes of the bus coach game. Enjoy simulating the heavy vehicles with multiple control modes to have a realistic experience of driving big lorry. Either control a steering wheel while enjoying the realistic interior of the bus simulator or switch to a different camera view. Drive next-gen New York City bus to transport citizens and tourists around the metro city in bus driving games 2019. Learn to drive euro bus with precision at the driving school 2019 and be an ultimate city coach driver. As a metro bus driver your duty is to transport passengers between the terminals around the modern city. Drive school bus, London bus or euro bus through traffic rush and avoid collision to reach the destination on time in bus driver games. Get on board and drive euro bus on all routes transporting civilians throughout suburban town and New York City. Prove your extreme smart bus driving skills and drive modern transport bus around metro city in simulator driving games. City Transport Coach Bus Driver – Transporter Game is an ultimate blend of elevated bus driving simulator 2020 and modern coach bus driving games. Better than most of the city coach, school bus, euro bus, London bus or double Decker bus parking games. Your duty is to transport employee on multiple factory area of the New York City by driving coach busses through the bus station. One of your tasks in this bus simulator game is get the fuel from fuel stations. Park the bus and refuel it. Driving again from parking lot and drop the passenger's safe and sound to their desire destination. City Coach Bus Driving Simulator Game 2019 gives you the chance to become real bus simulator driver of this free bus games.

How to Play?

Movement Arrow Keys and W S A D O Engine On Off F nitro C Change Camera B Back View
Ultimate City Coach Bus Sim 3D : How do I find similar games?
adventure bus driving simulation simulator
Ultimate City Coach Bus Sim 3D

: Watch Walkthrough