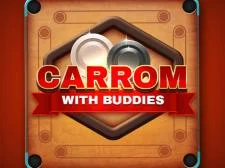 Revive your childhood dreams by playing Carrom with your buddies.

Cover the Queen (Pot the Queen, followed by a Carrommen).

Pot all your Karrom pieces with the Queen, covered before the last Carom piece.

How to Play?

Play carrom with your friends online
Carrom with Buddies : How do I find similar games?
2 player board box2d brand carrom family multiplayer physics simulation social sports
Carrom with Buddies

: Watch Walkthrough