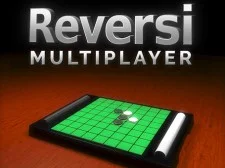 Reversi Multiplayer is a HTML5 Board Game.
Enjoy this stylish version of the classic Reversi Game.
3 Game's Mode:
– Multiplayer mode
– Play against the pc
– Challenge a friend playing on the same device

How to Play?

Tap the cell to place pieces.
Reversi Multiplayer : How do I find similar games?
2 player 2players board checkers classic go multiplayer othello reversi strategy
Reversi Multiplayer

: Watch Walkthrough