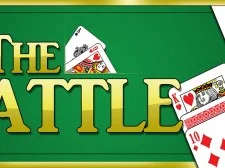 Rediscover one of the greatest games of your childhood with « The Battle » and feel again the weight of destiny on your shoulders. May it be to occupy yourself in the underground or to take a moment with a friend; this traditional card game will be perfect for you. Download it absolutely.

How to Play?

Not enough time to take out a card deck, but you still would like to play for a bit? The Battle is perfect for you. In this version of the classic game "War", you and your opponent begin with a deck of card. Then you confront at each turn a card taken from the top of the deck. The player who has the strongest card takes them all and if the cards are of the same strength, then it's time for the "Battle". You put a first card face down over the first one, then another one face-up.
The Battle : How do I find similar games?
2 player arcade card cardgame cards classic duel game games
The Battle

: Watch Walkthrough